About Suzanne Hamby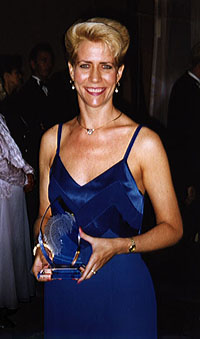 Suzanne Hamby started ballroom dancing as a college student. After graduating from Brown University she began working in Boston in neurology research, but found the dance floor more exciting than hospital research. After watching her first ballroom dance competition, she was hooked, and she decided to give up her career and pursue her dream and her love for dancing. She moved to England to study dancing intensively with former world champions.
Success followed quickly and Suzanne's titles include North American Champion, United States Champion, Eastern United States Champion, United States Ten-Dance Champion and New England Champion. Suzanne was chosen to represent the United States at the World Championships four times and was twice awarded the prestigious Feather Award for Best Professional Dancer in the United States. She also won the Feather Award for Best Dance Teacher in the United States.
Suzanne has been invited to perform, coach and lecture throughout the United States, and was asked to perform with the Boston Pops Orchestra at Symphony Hall. She has appeared on numerous commercials and television shows including the popular PBS show, "Championship Ballroom Dancing", which she appeared on for thirteen years. She choreographed and performed in the movie "Substitute 4". She has competed throughout the United States and in England, France, Hungary, Germany, Denmark and Italy.
Suzanne teaches all levels from beginners to professionals. Suzanne's students include many with National and Regional titles. She has won numerous Top Teacher and Top Studio awards. She has coached the Harvard, University of Connecticut and MIT Ballroom Dance Teams. For several years she taught 4th and 5th graders in the Framingham after school program where there was a waiting list to join her class. She has also taught high school students at St Marks School in Southborough and at Lawrence Academy in Groton, MA.
Suzanne's professional accreditations include membership in the National Dance Council of America. She holds Licentiates with the Imperial Society of Teachers of Dancing in both the Ballroom and Latin American branches. She is a registered World Class Adjudicator: one of a small, prestigious group that has been selected to judge at World Championships.
Suzanne inherited her love of dancing from her father who was a great social dancer and loved to listen to the Big Band music of the 30s and 40s. He did a fantastic Charleston! She got her drive and determination from her mother who was an accomplished figure skater. Her parents always encouraged her to do her best at whatever she pursued, and more importantly, to do something that made her happy. She feels fortunate to have a job that is her passion and loves to share her expertise with others.