Boston Area Ballroom and Latin Dance Lessons

Come Join The Fun!
WELCOME TO HAMBY BALLROOM DANCE STUDIOS!
Hamby Dance Studio is Boston's Best for Dance Lessons - Ballroom & Latin, Swing & Salsa Dance classes and Wedding Dance lessons! Located in Waltham, Hamby Ballroom Dance Studios offers a full range of dancing classes, private dance lessons and Wedding Dance (First Dance) lessons.
Suzanne Hamby has been teaching dance lessons in the Boston area since 1984. Suzanne has won numerous titles both as a competitor (North American Champion and United States Champion) and as a teacher (voted "Best Female Dance Teacher in the United States"). Suzanne and her staff want you to have fun as you begin what may become a life long hobby or passion.
Private and Group Ballroom Dance Lessons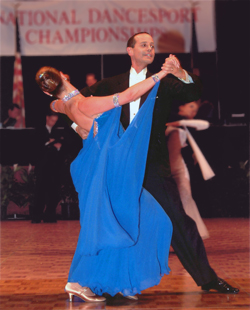 Ballroom Dancing is undergoing a tremendous resurgence in popularity as new generations are discovering the joy of dancing. Young and old alike can express themselves to a variety of exciting ballroom dance rhythms: the sexy and sultry Latin beats: Salsa, Tango, Rumba & more, the slow and romantic smooth dances: Foxtrot & Waltz and the ever popular Swing. Dancing is good for your health and is a great way to make new friends. Check out our group class schedule, private dance lessons and Boston area ballroom and latin dance parties to get started!
Whatever your dancing goals are, we can help you achieve them. Learn the correct technique to become a better ballroom and latin dancer. We offer a full range of group classes for beginner through advanced dancers. If you have never danced before, the Beginner Dance Classes will teach you some of the basic steps in the most popular dances, like the Foxtrot, Waltz, Swing and Salsa. You will gain confidence and feel comfortable on the dance floor at social occasions. Perhaps there is a dance you have always wanted to learn like the passionate Tango or the seductive Rumba. Don't put it off any longer. Now is the time to take the first steps!